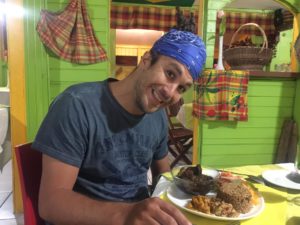 Every year we look for new Tutors for our camp and, as you already know, we really seek them anywhere in the world. Nowadays it's really easy reaching virtually someone that is halfway across the world; the only thing you need is a computer connected to the internet and the deed is done.
In the past we tracked down our Tutors in Canada, US, China and South Africa. This year we linked up with French Carribean, a fairy-tale place in the Carribean ocean, where our new Tutor Ross has been working over the past months – a globetrotter Australian teacher that can combine working with his passion for travels. Let's see what he told us…
Introduce yourself to our friends at the camp!
Hello! My name is Ross. I'm 32 years old from Adelaide, South Australia. I have been teaching English as a second language for 5 years now. Mostly to younger learners aged 3-7 years. I have taught English in Czech Republic, Russia, China, French Caribbean, as well as English summer camps in Ireland, Spain and Greece.
Why did you choose to be part of this camp?
I have never taught a classroom of Italian children before, so I feel privileged  to be able to experience this at Orsago English Camp.
What kind of teacher will you be at the camp?
I tend to teach away from the 'course book', with a active and engaging approach with children. Usually teaching with flashcards, music, games, role-play, hands-on and communicative approach.
A tutor's job is really demanding but can firmly say that the place they had the chance to visit often pay back all their efforts! Now let's wait for the next interview to see which other amazing places have visited the other tutors…