In addition to our courses, we are involved in year-round events and activities often in collaboration with other organizations and local administrations. These events aim at promoting our initiatives and offering more chances of socialization and cultural reflection in our community.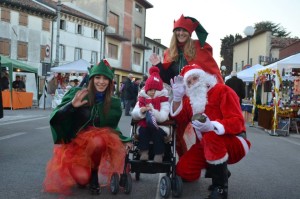 Halloween parties: started in 2013, our Halloween parties are a way for our kids to meet again (and speak English) after the summer. They get to learn the cultural meanings of this tradition in the English-speaking world and take part in a big "Trick Or Treat?" competition – they are divided in teams and walk around Orsago to collect the largest amount of candies in a winner-take-all race (no worries though, we do have pretty lavish consolation prizes). Special rewards for the scariest costumes!
Christmas Markets: thanks to our long-standing relationship with Santa (during the winter, we send our English teachers to intern as elves in Lapland), every year we are able to arrange a guest appearance at Orsago's picturesque Christmas markets (he usually comes riding a Harley-Davidson or a quad). Santa takes selfies with everyone and collects kids' letters; our team supports him with Christmas sweets, songs, creative workshops and more.
Treasure hunts, egg hunts and kids entertainment: we organize treasure hunts in English and many other forms of entertainment for kids at local fairs and events. During Easter time, we host big egg hunts as yet another way to expose our community to foreign traditions and customs.
We are always interested in new gigs, to bring our team into the community and let them know about our initiatives. If you want to get us involved for events and parties, let us know!