English Camp Orsago is a two-week summer camp for kids aged 4 to 15, where they can learn the language through games, sports, and creative workshops. We aim at a seamless and natural learning experience, that values conversation and practical, expressive usage of language skills.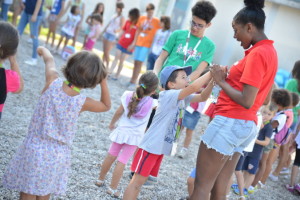 A qualified team of native English-speaking and/or fully bilingual teachers will guide participants in this playful learning process, both individually and in groups. Our Italian staff, boasting years of experience as educators and entertainers, will be supporting all these activities.
English Camp Orsago, unlike most camps in Italy, is not only about British culture: we try to include all English-speaking cultures (and every kind of accent) in our program, from Australia to South Africa, from Ireland to Canada. Not only that, but we see English as a tool to understand the whole world and develop intercultural competences that apply to any country and nationality.
At the end of the camp, kids perform in a professional stage production, where they demonstrate what they learned and build valuable skills such as teamwork, space and time management, discipline and more.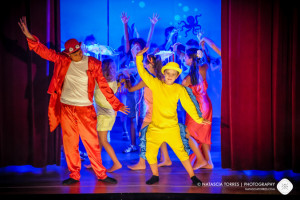 Our camp has been running successfully for several years, and is constantly evolving and innovating while keeping its focus on the learning experience of our kids. Some of the staff members have participated in similar camps when they were younger, and they know the transformative potential of such an experience. At our camp, kids meet people from all over the world and build language skills that allow them to pick up new interests (whether it's traveling or even just being able to understand films, TV series and websites in English).  Bridging a historical gap in the Italian school system, we provide our kids with an experience that is not merely about language – it's about personal development, in the highest sense.
Camp 2019 will take place from 8/19 to 8/30, Monday to Friday, from 9am to 6pm at the elementary school of Orsago, a beautiful village just one hour north of Venice, in Italy. Costs include dining services and insurance; if necessary, we can welcome kids starting at 7:30am, so that parents can drop them off before going to work.
---
2019 Costs
Early bird discount (before 5/15):
•€200 for both weeks of camp, plus a €10 fee for your membership card (if you haven't signed up for any of our other initiatives this year);
• €150 for one week, plus a €10 membership fee;
Regular rates (after 5/15):
•€230 for two weeks, plus a €10 membership fee;
•€180  for two weeks, plus a €10 membership fee.
In any case, upon sign-up you will be asked to pay €100 (early bird) or €130 (regular rate) as a cautionary deposit, plus the membership fee. The remaining amount must be paid on the first day of camp.
All rates include lunch/snack and insurance, learning material, and the official 2018 camp t-shirt.
But that's not all! For any brother, sister or new participant you bring, we will give you a €20 discount.
---
Locations & Facilities
Orsago Elementary School (Via Dante 4, 31010 Orsago TV) – a highly equipped school: a bright, spacious entrance hall, an internal yard, large classrooms with lots of windows, a comfortable dining hall, a fully equipped internal gymnasium, a beautiful park surrounding the building.
Since 2015 we also use the larger local gym, located at a short walking distance from the school, within the same fenced area away from traffic.
Also:
T
eatro Cristallo (Via Dante 2, 31010 Orsago TV) – a theatre with 300+ seats, where our final show is staged. The building is conveniently located at 2 minutes of walking distance, with no street crossings needed.
We equip the theatre with scenic designs (that the kids themselves help build during our arts & crafts workshop), professional lighting and audiovisual solutions, smoke and bubble machines and many other devices that always get the kids excited and wow the parents during the show, making it an unforgettable experience for everyone.
---
A Typical Day
| | | |
| --- | --- | --- |
| 08:45 | good morning song and games     | canzone e giochi del buongiorno |
| 09:00 | lesson time | didattica con il proprio tutor |
| 10:30 | break time & group activities | ricreazioni & giochi di gruppo |
| 11:00 | lesson time | attività con il proprio tutor |
| 12:00/12:30 | lunch time | pranzo |
| 13:00 | break time & relax | ricreazione & relax |
| 14:00 | labs & sport | laboratori creativi & sport |
| 15:30 | break time | merenda fornita dal camp |
| 16:00 | labs & sport | laboratori creativi & sport |
| 18:00 | back home | Si torna a casa |
---
What You Get:
A rich, playful morning class experience, with native tutors, for 120/150 minutes (depending on age)
Sports, acting, multimedia content production, arts & crafts, music labs in the afternoon
Group games, songs, chants, and an exciting team tournament
A workbook with games and exercises, to be completed in class
All the learning material and the stationery you need: pens, pencils, crayons, cardboard, etc.
A certificate of attendance with the tutor's evaluation
A final theatrical production created with professional means, acted by the kids in English
Official t-shirt of Camp 2017
Dining service (lunch and afternoon snack) accommodating any kind of diet and food allergy
Insurance
---
All clear?
If so, please fill in the signup form (in Italian); if you still have questions or doubts, though, you can contact us by calling (+39) 339/8464324 or sending us an email (hello@associazionewhynot.it).