Throughout our history we had the chance to meet several Tutors from every corner of the worlds, finding them is not a piece of cake, and when we have the chance we are very happy to host again Tutors that have already worked with us. This year not only will Jonathan be again working with us, but also Emma, a talented mother tongue English teacher that for the fourth time will be joining us.
This is her greeting:
Hey guys, my name is Emma. I'm an English teacher currently working in an international school in Padova. I moved to Italy last year and I love it. I've taught ESL in many different countries to all ages and levels. This will be my fourth year with Association WhyNot! I keep coming back because it's great fun and there is an amazing atmosphere. We have a lovely team of teachers and staff that ensure the kids are learning and more importantly – having fun. 
Four years ago, before the beginning of her first experience with us, she had already told us something about herself in another interview, which we write again here below.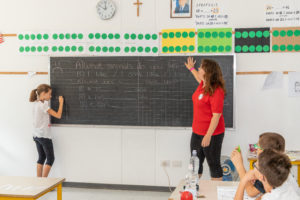 Introduce yourself to our camp community!
Hello! Hey! Hi!I am Emma Milligan, a 27 year old from York, England. I am currently a teaching assistant in a secondary school after working as a language teacher in China and Spain. I am a social person who loves to learn (and teach!). I like staying active with running, yoga and swimming, I also like food. Cooking and trying new things. I'm friendly, interested in other people and I'm very understanding. Most importantly I love to have a good laugh.
Why did you choose to be part of our camp?
I chose "Why Not?" because it looks like a family! A close set of teachers and activity leaders who have a real passion for education and fun! I have never been to Italy before so this will be a great opportunity to learn more about the people, the history and the food! The school focuses on practical teaching with native speakers. This well help the children learn practical English that they will remember and it's all done in a fun way.
What "kind" of teacher will you be at the camp?
I am friendly, firm and fair. The 3 F's. The most important thing for me is that the students are happy. If they are happy they will learn and if they learn… I am happy! I like prizes and rewards but behaviour is very important too, so I make sure everyone knows what is expected, what they have to do and how to make it interesting. I will make sure everyone in the class feels they're 'getting it' because confidence and comfort in the class is my priority.
Certainly in the last 4 years Emma's career has taken off, but her character and her determination have remained the same! We look forward to seeing you again, dear Emma!