Less than a week to start our English Camp Orsago 2019 and we are really excited, can't wait to meet in person our new Tutors. For now we are content to read what they have written about themselves. ☺ We keep travelling and discovering the new tutors going back to Great Britain where we meet Helen, a recent graduate teacher that, despite being very young, she's got plenty of experience with children.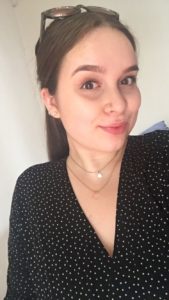 Introduce yourself to our friends at the camp!
Hi, I'm Helen! I live in Blackpool in England and have spent the last 3 years training to be a teacher at University and have worked with children in a range of different capacities since I was 15 years old!
Why did you choose to be part of this camp? I have had a passion for teaching and learning since a young age and I love to explore the diversity and challenges that children provide. I love to work practically and get outside as often as possible in order to make lessons creative and enjoyable for all involved which will be an ongoing feature of Camp Orsago. I am committed to the children I teach in my journey which is why I believe that camp Orsago will be a brilliant experience for me. Due to the camps nature and it's balance in teaching English but also a variety of other skills, I feel as though me and your children will thrive and have a fantastic 2 weeks!
What "kind" of teacher will you be at the camp?
As someone who has just come out of training, I am eager to get the ball rolling and begin to teach in an engaging and creative manner. I love to keep my children guessing as to what is coming next in order to avoid repetitive teaching. I love to bring humour to my classroom as well as a 'can do' attitude. I believe that a strong relationship with the children is the foundations to a warm and caring classroom!
We are really happy that our tutors also share our ideas, that's foundamental in order to create an united and cohesive environment and make the experience of our campers even more unforgettable!