After having introduced you Helen, a native English speaker, we continue presenting you the last tutors from Great Britain. Today we talk about Annabel, another young teacher with a rich curriculum behind her. Even Annabel, like Namrata, will be a kindergarden teacher.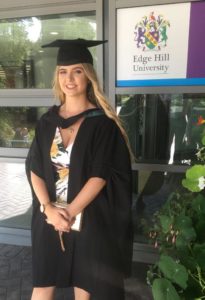 Introduce yourself to our friends at the camp!
Hi everyone! I'm Annabel and am one of the tutors for 2019 English Camp Orsago. I am from Manchester in England and have just graduated as a primary school teacher at a university near Liverpool called Edge Hill University. In September 2019 I will be teaching my own class of Nursery aged children (aged 2-4 years old). I enjoy being outdoors and exploring, I have just this year learnt how to snowboard!
Why did you choose to be part of this camp? 
I am a very bubbly energetic person, and this shows in the classroom when I teach, I build strong positive relationships with my classes and want them to feel comfortable and safe in the classroom. I am passionate about learning through exploration and giving children independence and control over their learning and learning environment.
What "kind" of teacher will you be at the camp?
I am very excited for this experience; I love exploring new places and have specialised in English teaching at university. I have had previous experience teaching children who spoke English as an additional language and believe I have the tools to make a difference for the children I teach at camp, and believe this experience will help me to become a better teacher; so not only will the children learn from me, but I will learn from them!
The fact that not only our campers can learn from our tutors but that in turn our tutors find our Camp a learning source makes us really proud and happy that everyone can ultimately benefit from the experience!