The goal of English Camp Orsago is not just teaching English language to its participants, but also bringing them closer to the many cultures of the many English-speaking countries all over the world. For this reason we tried to give our campers the chance to try sports that are not very common in Italy but are real cornerstones in the English-speaking world such as cricket, basketball or baseball. On the other hand during the content production lab our leitmotif has always been spreading the Anglo-Saxon cultures and their main aspects, such as the typical South African or typical Australian music.
As regards our tutors, over the years we've been very lucky to host teachers coming from, other than Uk or the Us, Canada, Australia, South Africa, Ireland and New Zealand. This year, as we already mentioned we'll have in our team an Indiam tutor and we're very happy about that. India is one of the biggest and most populous countries of the worlds, its culture is completely different from those of the English-speaking countries we're used to know, even if it effectively is as a consequence of the colonization of the past centuries. We hope that thanks to Namrata's contribution, that will be the Tutor of the 5th class, our campers will add anoter piece to their cultural heritage and discover something more about this culture that we're sure, when they will be adults, will have a crucial role in the world to come.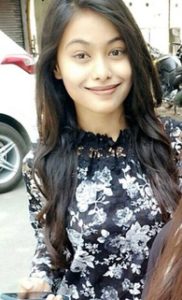 Introduce yourself to our friends at the camp!
Hi! I'm Namrata and I'm an Indian living in Barcelona, Spain. I've taught English and Economics to students in India and Middle East, Oman. I fell in love with English language through books and blog articles online and further decided to combine that with my love for kids. For me my students are the most naive inspiration and their pure wonder for life made me want to stick by them; and help them create theirs.
Why did you choose to be part of this camp?
Camp Orsago struck me as a passionate endeavour driven by the locals which made me feel instantly inclined to their cause. When I was in Grade V, a similar summer camp for spoken English, which I reluctantly attended, changed my life for good. Camp Orsago had the similar fun appeal to it and I chose it to have a chance at changing somebody else's.
What "kind" of teacher will you be at the camp?
As a teacher I like to keep work and play balanced. I understand the concept of productivity and try never to wear my students out. A healthy balance of the two fits in perfectly for me. I prefer to give them small breaks after topics in order to allow them to think. I love to use activities and similar approaches so that certain concepts can stick with the child's lexicon seamlessly. I also like to build rapport so every student can feel at ease with sharing their ideas. They can be wrong as long as they're trying; and I make sure every student of mine understands that. Lastly, I love to give high fives and talk about Marvel movies sometimes 🙂 
We're very proud to have people with such passion and enthusiasm in our team. If our English Camp works is jsut thanks to the team's amazing work and the heart they put into what they do.