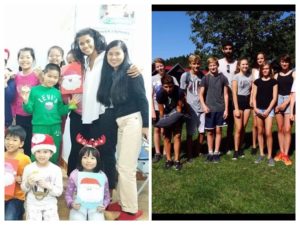 We're down to the wire, the arrangements are in full swing and we are eagerly waiting for the new tutors to arrive. Today we introduce you 2 of them! What do they have in common? Their amazing teaching experience in Vietnam. And that's not a small thing! Alexa is a young American lady and will be the teacher of the younger ones, our babies while Mark will be teaching in the primary school. Both of them have plenty of experience in the teaching of English to foreign kids. Let's see what they told us…
Introduce yourself to our friends at the camp!
Alexa: My name is Alexa and I am from where Mickey Mouse is from, Orlando, Florida! I have been teaching for 4 years in 4 different countries all around the world. I have taught every age group possible, but the little ones are my favorite.
Mark: Hi everybody, my name is Mark and I'm from the Emerald Isle of Ireland. I've been working as an english teacher for nearly four years in Vietnam. I've also been apart of several summer camps in Ireland, Vietnam and the Czech Republic.
Why did you choose to be part of this camp?
Alexa: I choose to be a part of this camp because I think camps are a great way to making learning fun for children and Associazione "Why Not?" seems like it achieves that. I hope to be a very approachable, energetic and fun teacher. I am really looking forward to meet my students and get to know them.
Mark: I chose this camp because it looks like they make learning fun and engaging for students and teachers.  I look forward to meeting you all!! It will be an unique chance for our kids to hear the stories of these tutors about their experiences all over the world!
Don't miss next article with the last presentation! Stay tuned!