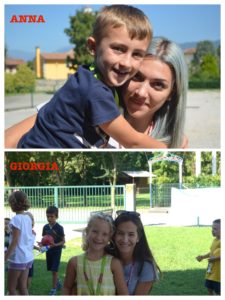 Today we will talk again about our Italian staff. We've already told you how important their help is; all of them have a lot of experience with kids, both as entertainers in other summer camps and in other contexts. Today we re-introduce you two old dear friends, Anna and Giorgia.  
They have been part of this team for years: Anna began as tutor of the little kids, thanks to her Canadian origins, while Giorgia has always been part of the group as staff. Both of them are sweet and adored by kids, we could't be happier to have them back again with us this year!
Introduce yourself to our friends at the camp!
Anna:Ciao! My name is Anna and I'm 21 years old. I study DAMS (art, cinema and theatre) at the University of Bologna. I consider myself a creative person, willing to help but most of all to discover new things. I've worked on several occasions with kids, for example for afternoon lessons and baby sitting. 
Giorgia: Hi! My name is Giorgia and I'm 19 years old. I've graduated from Liceo Classico (High school) and I will soon start university; I will study law in Trento. I'm a quiet person and one of my passions -along with volleyball, books and languages- has always been travelling and discovering new places. 
Perché hai scelto di far parte della nostra squadra? 
Anna: I've been working at this summer camp for 3 years, the first 2 years as tutor, as I'm half Canadian, and last year I volunteered as staff. As soon as I joined the association I enjoyed the atmosphere and the venture; I think it's really important for kids to learn English. Teaching at the camp means enjoying all day long, getting in touch with new cultures and people with different backgrounds, but also become kids again. 
Giorgia: Over the past years, during summer, I've been an entertainer in several summer camps but 2 years ago I joined this group and I couldn't be happier. This experience gave me the chance to have fun with the kids, but also to directly interact with people from other countries and strengthen my English skills, also knowing their stories and backgrounds. 
Che tipo di animatore sarai al camp? 
Anna: I really love being friends with the kids, playing with them during the break, making braids to the girls and rustling up cartwheeling contests. The most amazing thing is the hug the kids give you in the morning when they arrive and in the evening when they come back home. 
Giorgia: At the Camp I will try to involve the kids as much as possible and help them interact with the tutors so that each one of them can appreciate the chance they have been given. 
Let's keep connected for the next episode…