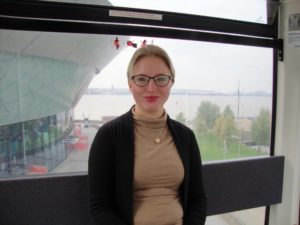 Teaching our 5th graders this year is Rebecca, English linguist with a specialization in bilingualism and speech pathologies. She has worked with kids affected by a number of language and learning disorders, and her scientific background in language definitely helps with her teaching methodology. Other than this, Rebecca has also a creative, fun, imaginative side—something our teachers need to have! Let's get to know her.
Introduce yourself to our friends at the camp!
Hello! My name is Rebecca. I am 26 years young. I am a postgraduate of linguistics and now engage in private tutoring. I love to learn, read, write and play! I also love to ride my scooter and, of course, to teach the English language. 
Why did you choose our camp?
I chose to be part of the Orsago camp experience because I wanted to combine my two biggest passions: 1) the English language and 2) teaching, in a new and challenging environment. Camp Orsago gives children the opportunity to learn English in the familiar and comfortable environment of their own country (why travel to England to learn English when we can bring English to you!).
What kind of teacher will you be at our camp?
I hope to be a fun, engaging and interactive teacher. A teacher who will make learning fun and inspire a love of the English language in all children! I can't wait to meet you all!
A big thank you to Rebecca! Coming up: our last article of this #MeetTheTeam edition. Keep following us!