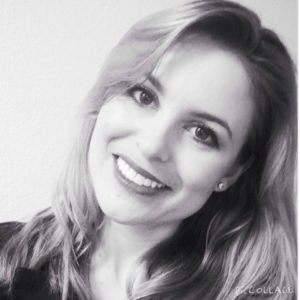 Meet Kelly, our American teacher who will take care of 4th grades at our camp 2016! Kelly has been teaching English as a foreign language for almost 10 years, having earned a master's degree in TEFL. She is currently teaching English to international students in a military base in the States, but she's coming to Italy on holiday and she will "drop by" to bring her skills, her passion, and her talents among our kids.
Introduce yourself to our camp community! 
Hi! My name is Kelly Strobel. I'm an American from Reno, Nevada (near California). There are lots of beautiful mountains and lakes near my city, so I love outdoor activities like hiking and kayaking. I love learning about the world– especially languages, culture, history, and cuisine – and that is also why I love to travel!
I've spent a lot of time in Europe, so it feels like my second home. As a university student I studied abroad in France and Italy. I had wonderful language teachers in both countries who inspired me to become a teacher myself. Since completing my teaching degree, I've spent the past 10 years teaching English to international students from around the world. I've had Italian students before in the United States, but this will be my first time teaching in Italy! My great-grandparents came to the U.S. from Italy, so it's a place close to my heart.
Why did you choose to be part of our camp?
When I first heard about "Why Not?" I knew I wanted to be a part of it. I love that students get to take an active role in learning through fun and creative methods, which is often lacking in traditional classrooms. I am thrilled to be a part of an international team of teachers!
I also wanted to teach children again after teaching adults for many years. I have previously taught English to children in France, and at a camp for young international students in the U.S. I love the energy and enthusiasm that children bring to learning!
What "kind" of teacher will you be at the camp?
I am enthusiastic and passionate about teaching English in a fun and meaningful way that engages and motivates young learners. Stories, songs, and games provide a memorable context for students to use language naturally while having fun!
I take great care to create a learning environment where students feel supported, encouraged, and comfortable. I am clear about expectations while at the same time giving students creative freedom in their learning. I am flexible and make adjustments to lessons and activities depending on students' language needs, learning styles, and interests.
Some of my hobbies are writing and dancing, so I'm looking forward to incorporating my passions into language teaching/learning. I believe that if I'm having fun teaching, my students will have fun learning too!
Thank you Kelly! We are looking forward to having you here. Not long before we meet you in person and start our next adventure at Camp 2016! Stay tuned…