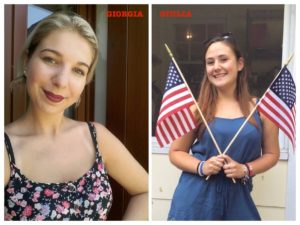 Let's take a break day from our tutors: today we will introduce you to two members of the staff! The first one is Giorgia, new entry of last year's English Camp and "holder" of content production lab; we are also happy to have in our team Giulia, new entry of this year's camp and "holder" of this year's content production lab. Let's discover something more about them…
Introduce yourself to our friends at the camp!
Giorgia: Hi! My name is Giorgia, I'm 19 years old and I live in Codognè. I've just finished liceo (high school) and in September I will attend univerisity. Hopefully I will be studying "Philosophy, International and Economic Studies" at Ca' Foscari University of Venice – fingers crossed! In the future I would like to deal with international relationships, but I'm too young to decide right now 😉 At high school I was in the theatre group and I would like to go on with it also in the future. In my free time I enjoying watching movies and tv series, I love going to the cinema and to art exhibitions. I really like travelling! In the future I hope I will be able to travel more and to turn my passion into a real job!
Giulia: Hi! My name is Giulia, 19 and I'm Italian. I'm actually studying International Studies at the University of Trento but next year I will move to Osnabrück, Germany, thanks to Erasmus+ program for studying a whole year in German. Since I was a child I took part in several summer camps both as girl and as a organizer.I like baking (especially cake), having fun in the open air, reading, learning foreign languages and of course travelling. I see myself as a sunny and open-minded person and I'm really looking forward to meet you all at the English camp.
Why did you choose to be part of this camp?
Giorgia:I decided to be part of the staff because I love having the chance to know new people and work with kids. Moreover I really appreciate the possibility to get in touch with people with so different origins and life paths.
Giulia: I like the idea of being able to practice a foreign language and at the same time have fun and meet new people in a non-school or professional environment and therefore much more relaxed. Furthermore I have always liked the summer camps for the memories that leave you at the end of the experience.
What kind of entertainer will you be at the camp?
Giorgia: At the camp I will try to help kids as much as possible to interact with tutors when they will need; I will also involve them in all the activities organized doing my best so that they can enjoy the camp as much as possible! I can't wait for the camp to begin!
Giulia: I will try to give the best of me to leave a good memory of the camp to the guys I will meet as in the past years other guys have done with me and I will strive to make them spend pleasant days but also rich in new knowledge. Hope we will spend 10 happy days that will be remembered.
What else can we say? The premises are great, we can't wait to see them in action!