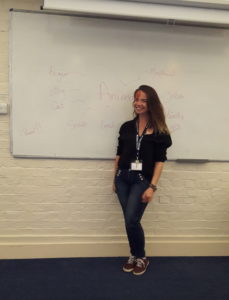 Our trip discovering the tutors of English Camp 2017 heads back to Europe, more precisely to Scotland. In this amazing region of Great Britain we found out Kirsty, an English teacher that lives in Spain. As soon as we saw her we've been impressed by her smile and her energy; awaiting to meet her let's see what she tells us!
Introduce yourself to our friends at the camp!
Hello everyone! My name is Kirsty and I am from a small town called Dunblane in Scotland. I'm in my final year at University studying Spanish. I have taught English in Chile and Colombia from all ages and levels. I'm currently working at a Summer camp in England with children from all over the world.
Why did you choose to be part of this camp?
The opportunity to work with children and an association that doesn't focus solely on the 'boring stuff' is a great chance to providing learning in a completely different environment.
What kind of teacher will you be at the camp?
Language learning is all about engaging students and allowing them the chance to practice in enjoyable ways. I hope that I will be able to provide out of the box lessons and make the students love using English every day! I can't wait to get started.
As Kirsty we can't wait for the camp to start! In the meanwhile keep following us to know more about the new team. See you soon!